HAIRSTORY
A NEW APPROACH TO PRODUCTS
Our revolutionary new line brings hair back to its natural, childhood state – and keeps it there. It works on all hair types, regardless of age, race, texture, or length. All of our styling products are designed to work harmoniously with New Wash to bring out and enhance naturally beautiful texture without feeling coated, sticky, or weighty. Hairstory is much more than another product line. It is redefining beauty.
THE LINE UP
NEW WASH
Well, the future has arrived, so go ahead and toss all those bottles gathering dust in your bathroom because New Wash cleans hair with a proprietary blend of essential oils and naturally derived saturated cleansers – and no detergents or synthetic compounds. It conditions hair at the same time, and leaves it tangle-free. Over time, it revives hair abused by detergent, damaged by bleach, and fried by heat styling. If that wasn't enough, color lasts far longer, and troubled scalps become so much happier. Choose from 3 amazing cleansing cremes: New Wash OG, New Wash Rich and New Wash Deep!
STYLING PRODUCTS:
Designed to work harmoniously with New Wash
Hair Balm takes skincare and applies it to hair: Moisture plus magic manages dryness, and comes to the rescue in case of or over-processing. It's a must-have to make curls perfectly imperfect, and to add weight to naturally big hair for a leaner look – all without feeling crunchy, sticky, gelled, or lacquered. Frizz? Stay calm and carry Balm.
Rise to the occasion: This versatile styling mist – a special blend of thickening, shape-shifting resins, and fast-vanishing spirits – takes hairdressing to new heights: Help roots stand taller, plump up a ponytail, or add a little "starch" to lock in shape when heat styling. The finish? Smooth, never sticky, and always workable without tearing your hair out. So give yourself a little Lift, and don't let gravity get you down.
This hat-proof, water-resistant shape-shifter is nothing short of MVP (most valuable product) for short cuts. It has your back (sides and top) covered: Look good without trying too hard. Be groomed with a lived-in vibe. Dress for success in no time. Hold it together without being rigid. Help fine hair feel fuller, and bring unruly hair in line. Finally, leave the patent shine to shoes, and enjoy a low-key, matte finish.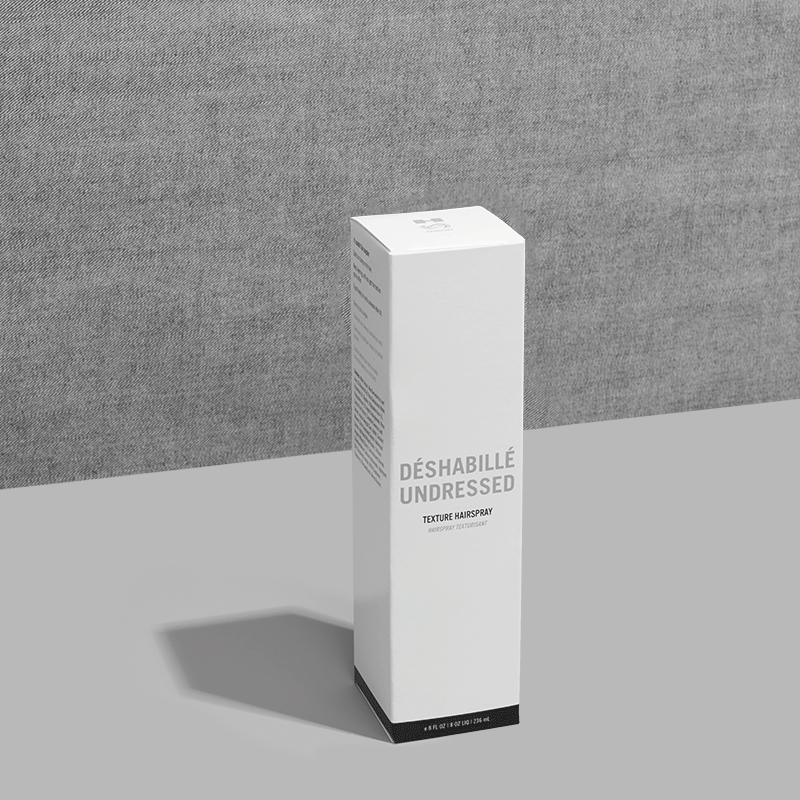 We love the sexy, beachy look – but is dry, gritty, crispy hair sexy? The key to looking (and feeling) artfully undone is having a special product that you can't see but that you want to touch, like this one. Undressed creates texture without torture for a finish that's seductively soft and lush – and unlike so many surf-inspired sprays it doesn't contain even a grain of salt to sap moisture.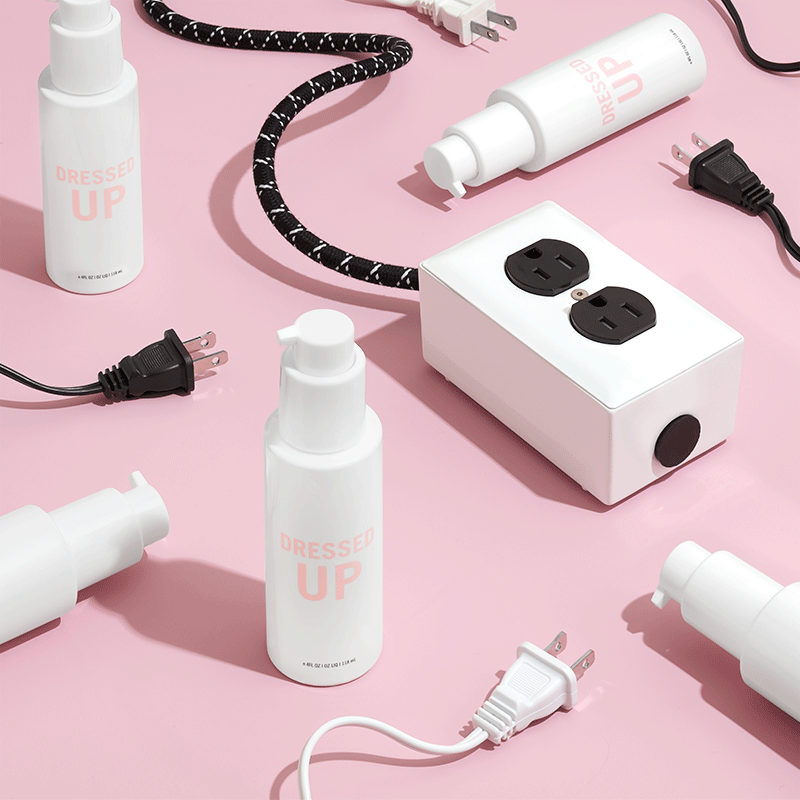 Dressing up is a lost art in a world that dresses down, but like that one timeless outfit in your closet, this light lotion is the key to looking stylish, at least for your hair. Whether or not you heat style, you won't see it; you won't feel it, but you'll know it's there keeping things in control, maintaining body and adding just enough texture to pin hair up when you want to go all out.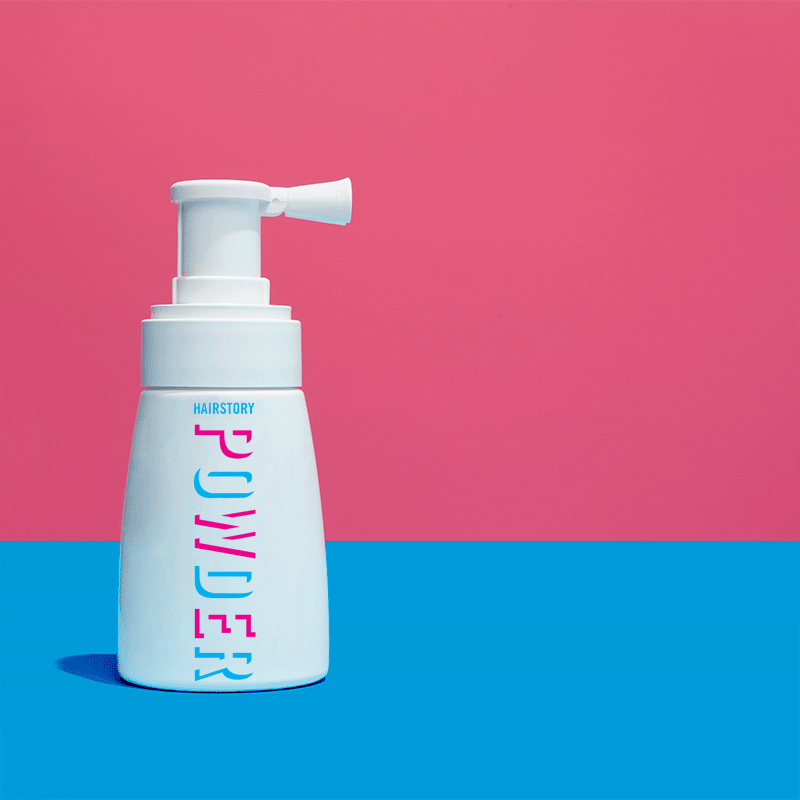 Before liquid shampoo, hair was freshened with various crushed herbs. And in the 400 years since powdered wigs were the fashion (and the powder room was invented), powders have been consistently hairborne. But this one leaves the best in the dust – a must-have for the modern wash-and-wear hair wardrobe. While ensuring oil-freedom, the sheer genius of this translucent powder instantly creates Bardot-worthy body (tease no more), extends the life of a hard-won hairstyle, beefs up braids, and helps updos hold up. Microfine granules of vegetable and mineral matter are invisible to the eye, silky in hand, and the nose? Smells sublime. So powder on!
HOW CAN I SAMPLE THE LINE?
Want to try Hairstory for yourself? Order the Hairstory sample box below. It is a full-size of all 9 products at 20% off wholesale and free shipping! Once the sample box is ordered, a Hairstory Coach will connect with you and follow up on your experience with the products, answer any questions and review how the Hairstory business model can impact your business. (NOT AVAILABLE FOR CURRENT HAIRSTORY HAIRDRESSERS...JUST YOU NEWBIES :)
GET A FREE BOTTLE OF NEW WASH ON US!
Take the New Wash quiz and determine which bottle is right for you. Fill out some information and boom! A Hairstory Coach will connect with you and follow up on your experience with the products, answer any questions and review how the Hairstory business model can impact your business.
THE HAIRSTORY BUSINESS MODEL
(IDEAL FOR INDEPENDENT HAIRDRESSERS AND A BRILLIANT WAY TO REWARD HAIRSTORY HAIRDRESSER FANS IN YOUR SALON...OH AND IF YOU HAVE A LOT OF CLIENTS WHO SHOP ONLINE...YOU WILL WANT TO CHECK THIS OUT!)
Participate in e-commerce.
Make money whether clients buy online or in salon.
Choose from affordable Opening Order options.
Stock minimal inventory.
Free up cash.
Maximize return on investment.
Earn free backbar and stylist station products.
Earn money by introducing us to other hairdressers.
In short: See big returns on a small investment.
Hairstory offers 25% commissions on retail sales versus the traditional 50% margin, but your profit potential is greater. Here's why: The old model offers 50% on the first purchase, but zero – zilch, bupkes – for subsequent purchases made online. (Again: Where are those Amazon commission checks?)
Earn 25% on every sale, for the LIFETIME OF A CLIENT. This is why we say 25% is greater than 50%; capture profits for years to come.